Students Opinion
The course was very informative and taught me a lot about Ayurveda and Ayurvedic massages. The massage techniques were interesting and different from other massages i learned earlier. I will definitely come again to learn more.

Vishwa
visalingam@hotmail.com
1482 , Lorong selasih 5/3 ,
Taman Selasih.
Kulim.Kedah
Malaysia
Dear Doctors
Time flies, we are already 1 st of 2005. I am happy that I spent my last month of 2004 in your school. There could have been no way of ending this year 2004 than by studying the science of life for 2005. I will try to balance my doshas and precise the massages you have taught me.
I am grateful that you introduced me into Ayurveda. Both of you are wonderful teachers and I wishing you many students this year and also a long holiday after all the heard work.
I will tell the Belgians to come to Kannur.
Jan De Hane
Vialibra@hotmail.com
Lombeeksestr 32
1750 Lennik
Belgium
Dear Dr. Sapna
Time flies so fast 1
Thank you for leading me to get much information about things exactly what I wanted to know. I am so satisfied learning about 100% natural science and also new bodywork.
I have learned a lot more than I expected – yoga, beauty class, pregnant massage, baby care, reikie – all of them are so useful things and practical.
I am full now and need some time to digest all that I have learned in short period of time. But I know that I have the key to open this heavy door towards a new world. Now I am ready to open it and try to walk step by step by my self with your support.
Nao Ando
Nyao1439@hotmail.com
1-1-13 Nakshirane
Asahiku – Yokohama
Kanagawa
Japan 241 – 0004
It is amazing to discover the preciousness of Ayurveda, thank you very much. Your care and friendliness are overwhelmed, I am really grateful. I have enjoyed the theory and practical sessions very much. Thank you once again and all the best for the future.
Waree Ploypetmanee
ploypetmaneew@hotmail.com
53/10 gukhumvit 46
Rama 4 Prakanong
Klongtoy
Bangkok 10110
Thailand
Dear Doctors
It was instructive and informative, more tan I thought to actually to take with you personally. Although the notes of the distant learning course on internet were very good, actually training with you was most valuable.
It was also nice to take other courses and you excelled in those too, those yoga and beauty courses. I look forward to take more courses with you such a infant and pregnancy care and infant massage.
This Ayurveda is really a change of life style towards the healthy and better life and being exposed to its practicalities and being in India was most wonderful. Last but not least your staff also instructed me well and were most professional and courteous.
Your personal touch making me feel as if I am part of your family was really wonderful and heart warming. I thank you once again and never forget your effort, trust and excellent instruction.
Nada Ahmad Al Hasawi
Sunqueen_282@yahoo.com
PO Box 3923
Kuwait - 40191
I really enjoyed your classes and the way you teached and the way you did every thing to make us feel comfortable. I would love to come for one month again and spend time for Panchakarma Treatments. I already taste a little treatment of Shirodhara and it was fantastic. My doshas fee so much balance now. I wish your team all the very best……….
Dr. Tanuja Abeynayake
No 1 Kekatheya
Mawatha Rathalana Sri Lanka
Hi friends
We really enjoyed the course learned many Ayurveda treatments during our short stay at the center. Thanks for the effort that you put in o coordinating the course and again for helping us all to feel comfortable. Now we have small sense of belonging in Kannur for the short time which w were here.
Sandra & Pedro
Gallodeveleta2@yahoo.com.mx
Paseo Del Nardo # 1
Yaldoreix
Barcelona
ZC 08190
Spain
After one month of studying the basics of Ayurveda and having a full course of PK treatments I am so delighted and at the same time inspired to discover the ancient science and gift of Mother Nature. The treatments were delicious and experiencing it for myself was a wonderful experience. I would also like to thank you for teaching so clearly without leaving a doubt and I wish you all the very best for your future.



Diana Peuker
Diana.peuker@freenet.de
Seeberg 3
14715 Schollene
Germany
Thank you very much for all your help and attention. We have covered so much in such a short time. Ayurveda is such a vast field. I hope I can be a part of the bridge being built between the east and the west.

John Wilson
Vama93@yahoo.com
11315 E Michelle LA
Tucson AZ 85748
USA
My Dear Friends
I came to India looking for knowledge, but I have found so much more than that. You shared your knowledge but also your time, your attention, your love and friendship with open arms and heart.
I have been studying Ayurveda for the past 3 years and your course put me in contact with the real essence of this sacred science.
I already miss you even before leaving Kannur. Now I am taking India inside my heart as a new home and you as a new family. Thank you very much for every thing.

Filipe Dos Patto
fepatto@hotmail.com
Rua Francisco Isoldi
N285 – Cep: 05441 – 040
Sao Paulo – SP - Brazil
Oh Dear Doctors
It's already all been said and I will repeat again that you are wonderful people to teach this difficult science. Your patience and generous heart makes it so easy to understand and it feels good in this little paradise area. Wish you all the best….
Berengere Berieau
be_berieau@hotmail.com
Les 4 Chemins
85140 St Florence
France
I have had a wonderful time here. Your excellent teachers well structured course nice accommodation every thing was nice. It is one of the most comprehensive course I have come across. I all the stff have been most obliging and very professional. Thank for every thing. I hope to come back soon for more extensive training.
Jessica Karumbiah
kodava@hotmail.com
4299 Sector 23 A
Gurgaon 122017
New Delhi
India
I am really happy about my stay in Kannur which was extremely rich not only in knowledge but first of all personally. You are very great people, you actually incarnate Ayurveda to me because you presented the subject in an easily understandable manner and I believe this is the best introduction to India I could get.

Dr. Delphine Berthod
dberthod@bluewin.ch
Rue St Ginier 7
3960 Sierre
Switzerland
Thank you very much for giving me wonderful 1 month Ayurveda Course. Started on my birthday!!! This course turned out to be my best birthday present. I found my self very lucky that I chose your school from lots of Ayurveda schools from internet (your website was the best).
Program was just perfect amount of theory practice & activity (yoga class, healing class, beauty course, factory visit, etc)
At the beginning it seemed to be a lot of information but you explain about dosha from various point of view. I could see the whole basic picture o Ayurveda – sensible way of living – this will affect to my life style from now on.
Marma massage, Abhyanga and foot massage were really nice, long flow, fun to do and feels really good., that I knew when I received the treatments from your staff. Thank you for a wonderful experience.
Mika Inamoto
mika_inamoto55@hotmail.com
3561 West 30 th Avenue
Vancouver B.C
Canada
V6E1S6
Thank you very much for every thing. Though I stayed only or a short period I learned so much about basic Ayurvedic concepts in very quick period of time. Your obvious dedication and love for what you do reflect upon your teachings and general atmosphere of the program. I hope to return to back to Knnur soon so I can learn more. All the best to you and your team
Kara Fox
greeentea@hotmail.com
Nash Ville, TW
USA
Dear Doctors
Thank you so much for teaching and introducing me to the ancient system of medicine Ayurveda. Unfortunately I only had the time to do a 2 weeks course, but even this short time was so intense and informative that I am craving to learn more about it.
Even though I am going to study normal medicine I think it is great if I could offer some natural way of healing and preserve their health.
I learned more in these 2 weeks than I ever thought that I could. Your warmth your big hearts and your inner glow made it a very special time for me. I hope I will find a way to give you a little bit back what you gave me, when you come to Berlin.

Julia Powel
White.zion@gmx.net
Pfarrgtrabe 102
10310 Berlin
Grmany
I loved my stay in Kannur, the time I have spent learning and the time I have spent with the exceptional people I have been blessed to share the course with. I can feel that the Kerala is a special place in the world and in India – a place that is special not just because of the seaside setting but more because of the qualities of the people that live here.
It is with a mixture of satisfaction and sadness that I leave Kannur, it is the place I would very much like to visit again. See you soon.
Janita Mossel
Jannita_mossel@yahoo.com
Diabelli Street 15
2901 KC
Capelle a/d Yssel
Netherlands
Well first of all would like to thank all the staff and the doctors for making this course a wonderful experience. The cource was an eye opener of the ancient medicinal practice that has been followed in India . The cource was discriptive yet to the point required to practice. This cource has given me a good understanding of ayurveda and rest of the alternative medicine practices. Would again love to come to kerala to learn more from U.

Sachin Krishna Amin
sachin1879@hotmail.com
Dubai
UAE
The course was very informative and taught me a lot about Ayurveda and Ayurvedic massages. The massage techniques were interesting and different from other massages i learned earlier. I will definitely come again to learn more.

Mr. Crest Boodnee
Ler Etage Elp Complex
4 Route Du Club, Vacoas
Maouritius
Dear Doctors
Thank you for teaching us Ayurveda in a comprehensive fashion. I am sure I can apply a lot of things back home.
Becoming to understand "the knowledge of life" inspired me deeply. It's a real alternative to western medicine and sparked my interest to learn more.

Sonja Bloss
Bloss.sonja@gmx.de
Tehrstieg 7
25938 WYK
Germany
Thank you for giving me the opportunity to study Ayurveda at your institution I will take this knowledge back to friends, family and colleague and hope to spread the information. It was a really good experience. I have learned so much in such a little time. Thank you for all your help encouragement and co-operation.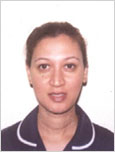 Ms. Sonitra Sue Singh
sonitraS@aol.com
Emmanuel Keyser House
37 a Devon shire Street
London
Thank you for your warmth acceptence and genuine interest in every student. You felt like friends from the first day itself.
Apart from Ayurveda I have learned a lot about the beauty of your country, its people and about myself ! I will never look at any one again without analysing the dosha ! I will definitely keep on studying and hopefully come back another time.

Brunhild Maslen
brunhildmaslen@hotmail.com
11 tylers Close
Kings Langley
Herts WD4 8QA
England, UK
PH + 44 1923 270458